Maddle Brook Safari Tent Retreat
Click here to enquire now about UK Breaks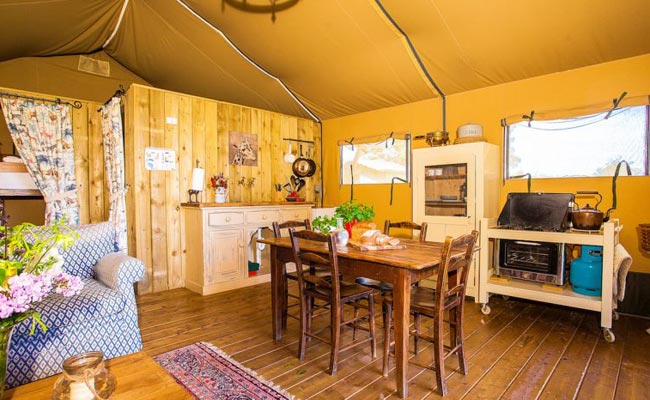 Relax and enjoy the quiet seclusion and privacy of the Safari tent's peaceful location. It's like being on your own private island, as the camp is in the bow of the brook and accessed by a small bridge!
Your tent sleeps up to 4 and boasts a private double bedroom with a comfortable hand made bed, and a separate curtained-off den with bunk beds. Plus, there's plenty of room for the whole family, with room to relax on the sofa, and enjoy a family meal at the dinner table. A log burner is all set to be fired up and the quirky kitchen facilities are functional and fun. Your bathroom facilities are located just 10 meters away in a separate cabin with a hot shower; shampoo and towels are provided.
Maddle Brook Safari tent offers a totally off-grid experience; heat your tent via a log burner, with the wood provided on a fair use basis. You'll also discover a large fire pit that can be used for cooking, or simply sitting around to watch the stars at night.
From your tent you can set off on miles of private walks, or try your hand at fishing (charged locally), or even head out to one of the picturesque local spots.
Includes:

4 nights accommodation

Essentials (towels, soap, shampoo)

Kitchen with fridge, hob and cooking equipment

Dining area for 4 people

Wood burning stove

Pet friendly
Example arrival dates: 24th - 28th October 2022

For more information or to book please call us on 0330 880 5114
*Prices are subject to availability.