Riverside Orchard Glamping
Click here to enquire now about UK Breaks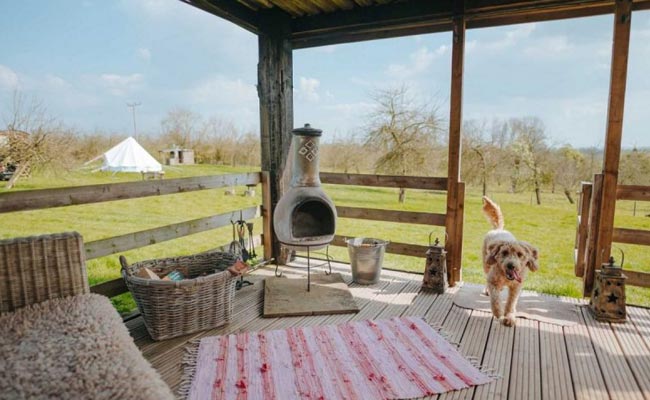 Glamping this summer doesn't get more idyllic than being surrounded by apple trees on the banks of the River Wye. Choose to sleep in either the beautiful shepherd hut or the comfortable 5 meter bell tent - the choice is yours as you have the whole camp to yourselves!
One of the bedrooms is a beautifully restored oak shepherd hut with a double bed; and two extra beds can be made up in the hut. Another bedroom is set inside a bell tent, with hard floor and two single beds. Just a few meters away you'll find a wooden hut with covered decking, providing a rustic living area and al fresco cooking and dining area. There is a gas hob, solar powered fridge, comfortable sofa and a dining table to seat 6. You'll also discover a fantastic outdoor shower - so you can take a hot shower under the stars!
Set off on a wonderful walk right from your hut, enjoy a picnic or bbq on your private river bank, or simply lie back and relax as you listen to the river flow past. You'll also find a cosy fire pit, where you can sit and toast marshmallows.
Includes:

3 nights accommodation

Essentials (towels, soap, shampoo)

Kitchen (with fridge and cooking facilities)

Wood burning stove

Pet friendly
Example arrival dates: 30th August - 2nd September 2022

For more information or to book please call us on 0330 880 5114
*Prices are subject to availability.