Rural Yurt Retreat in Cornwall
Click here to enquire now about UK Breaks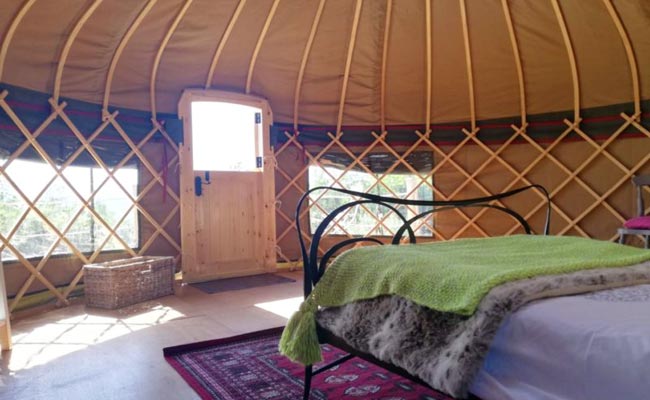 Enjoy a unique experience in Cornwall, staying in a beautiful sky-view yurt amongst the rolling hills, just minutes from the stunning coast.
You'll enjoy the sensation of living properly outdoors in this brand new yurt with private and exclusive facilities. Surrounded by nothing but vibrant green fields and blue Cornish skies, you'll be able to relax and reconnect with nature. Plus, you'll be just a couple of minutes drive away from beautiful beaches!
Each yurt has a double bed and 2/3 single futons, solar-powered lights and a USB for charging phones, a BBQ and chimenea on the decking areas, a wood burning stove, kettle, tea and coffee and crockery. 
Guests will also find a nearby amenity building, housing 3 bathrooms, of which each yurt is allocated its own with a lock and key. The amenity building also houses a shared kitchen with a fridge, hob, microwave, toaster and combination oven.
Includes:

7 nights accommodation

Breakfast hamper each morning of your stay

Bed linen and bath towels

A daily basket of fire wood

Parking for one car

Pet friendly
Example arrival dates: 23rd - 30th May 2022

For more information or to book please call us on 0330 880 5114
*Prices are subject to availability.